English Language Teaching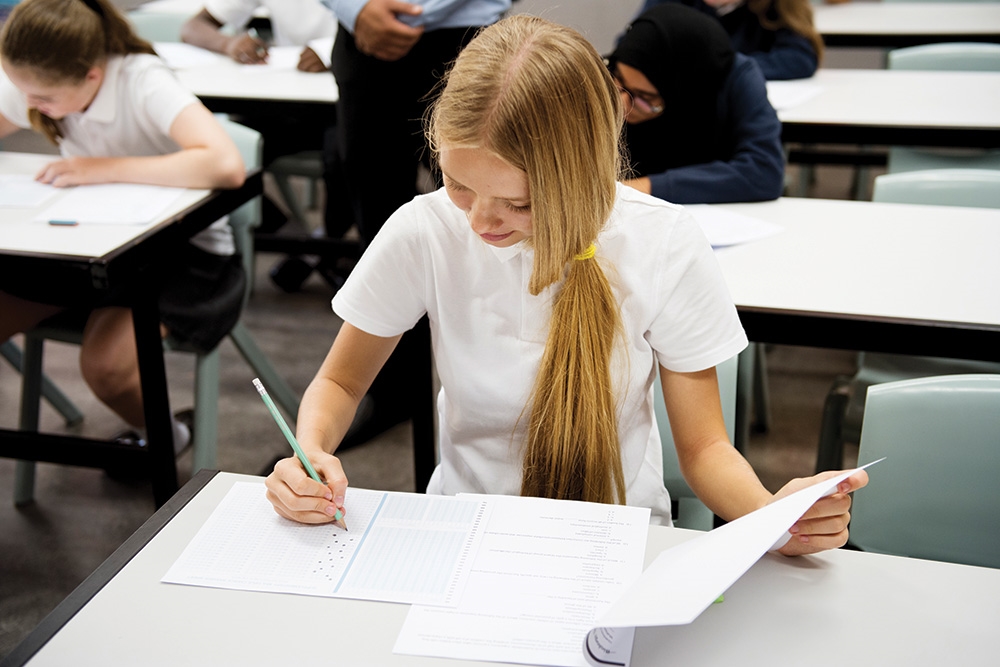 The quality of English language teaching at Ronaki Hawler Schools is underpinned by Cambridge Assessment.
All Ronaki Hawler Schools students have the opportunity to develop their English language proficiency. From as early as year 3, they can take world-class examinations from Cambridge Assessment and TOEFL. Meeting the challenge of completing IELTS Academic and TOEFL IBT at graduation is made achievable through excellent teaching and periodic examination experience.
Ronaki Hawler Schools English Language Proficiency Chart Linked with CEFR (Common European Framework of Reference for Languages)
We base the English language teaching that we deliver on the Common European Framework of Reference for Languages (CEFR). We determined the level of each grade based on the CEFR and we set the exit band target for our students accordingly.
We aim to make sure that every student reaches the appropriate exit band level by the time they complete each grade. In addition to our internal assessment, we use Cambridge and TOEFL international examinations to assess students' English language proficiency starting from as early as the 3rd grade, in order to check whether they have achieved the required exit band or not.
In this way, our students become accustomed to taking international examinations. As a result, when they graduate from high school, they are ready to take in their stride the IELTS Academic and TOEFL IBT tests.
Stirling Schools Grade Level

Section

CEFR
Exit Band

Description

Level Tests

KG Age 4

Kindergarten

Pre-A1

 

Complete Beginner

 

KG Age 5

Grade 1

Primary

Pre-A1
A1

 

Beginner

 

Grade 2

A1+

 

Grade 3

A2

Cambridge YLE-Starters

Grade 4

A2+

Cambridge YLE-Movers

TOEFL Primary Step1

Grade 5

Pre-B1

 

 

Intermediate

Cambridge YLE-Flyers

TOEFL Primary Step2

Grade 6

B1

Cambridge YLE-Flyers TOEFL Primary Step2

Preparatory Year

Secondary

Pre-B1

Cambridge KET

Grade 7

B1+

Cambridge KET

Grade 8

B2

Cambridge PET

TOEFL JUNIOR

Grade 9

B2+

 

Grade 10

High School

Pre-C1

 

Advanced

Cambridge FCE

Grade 11

C1

Cambridge FCE

TOEFL ITP

Grade 12

C1

 
Affiliations / Certifications
Sign up for Alerts, Special Offers, Education and Updates.